Mehndi, also known as henna, is a remarkable symbol of traditional elegance, cultural significance, and intricate artistry. With roots in the Indian subcontinent, its splendor has now crossed all borders, captivating hearts worldwide. This article highlights over 20 stunning mehndi designs that are bound to inspire and enchant, for both amateurs and experts.
What is Mehndi or Henna?
Mehndi, the art of painting intricate designs on the skin using henna paste, is deeply embedded in Middle Eastern and South Asian cultures. It has been used for centuries in religious and wedding ceremonies due to its cultural, aesthetic, and symbolic relevance. The henna plant, Lawsonia inermis, when dried and powdered, serves as a natural dye, creating a reddish-brown color when applied to the skin.
Top 20+ Mehndi Designs On Hands
1. Traditional Indian Bridal Design
This design is synonymous with grandeur and intricacy. Featuring fine lines, paisley patterns, and dotted details, it covers the hand completely, often extending to the arm. The bridal motif may include representations of the bride and groom, peacocks, or traditional Indian mandala patterns.
2. Arabic Mehndi Design
Arabic designs are characterized by their free-flowing structures with larger, more simplistic floral and vine patterns. Unlike Indian mehndi, they do not necessarily cover the entire hand, leaving spaces that add to their beauty and elegance.
3. Moroccan Mehndi Design
Moroccan mehndi designs are unique and modern, drawing inspiration from geometric shapes. These designs contain a combination of diagonal lines, symmetry, and repeated patterns that create a clean, contemporary look.
4. Minimalist Mehndi Design
For those who prefer a less is more approach, the minimalist design is a perfect choice. It features simple motifs like flowers, leaves, or vines strategically placed on the hand, creating an understated yet classy effect.
5. Indo-Arabic Mehndi Design
The Indo-Arabic design is a beautiful blend of Indian and Arabic styles. It features bold Arabic patterns filled with intricate Indian designs, creating a beautiful fusion.
6. Glitter Mehndi Design
A relatively modern trend, the glitter mehndi design incorporates glitter gel pens or colored henna to make the design pop and add a touch of glamour.
7. Mughlai Mehndi Design
The Mughlai design is known for its distinctive, fully closed starting point and detailed artwork, which flows over the hands in a delicate and regal manner, reflecting the grandeur of the Mughal era.
8. Raja-Rani Mehndi Design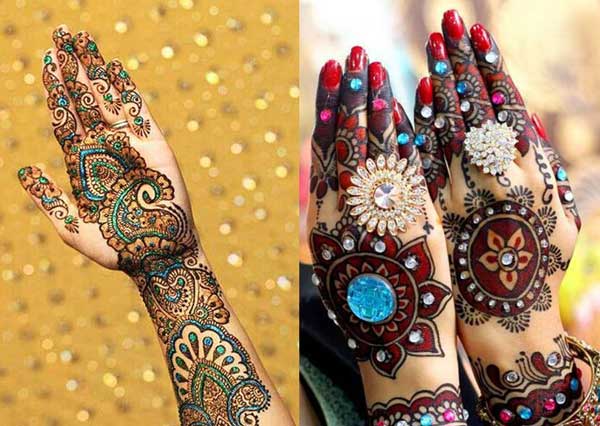 This design captures the essence of a royal wedding with separate motifs representing the king (Raja) and queen (Rani) on the hands, surrounded by intricate patterns.
9. Mandala Henna Mehndi Design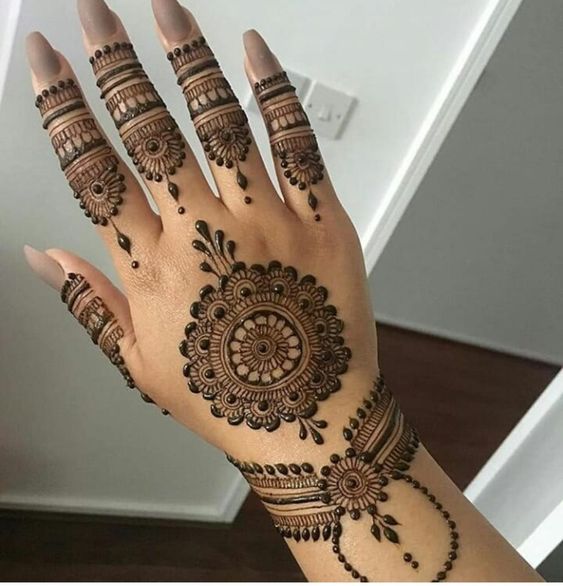 The Mandala design is centered around a large circle in the middle of the palm, from which several patterns like petals, lines, and dots emerge, creating a harmonious balance.
10. Henna Tattoo Design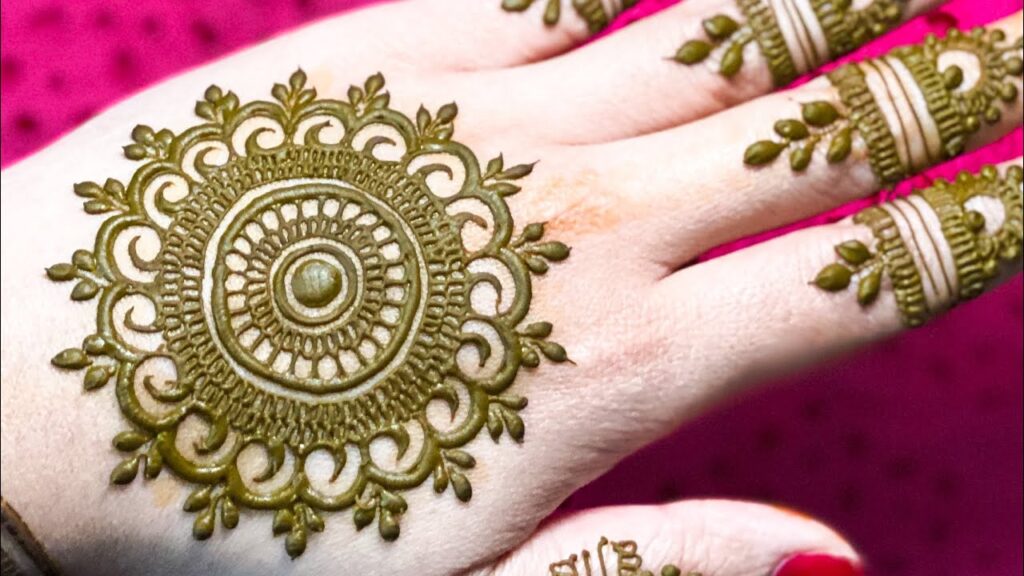 These designs are more stylized and modern, often taking the form of a specific symbol or a popular tattoo design. They're perfect for those looking for a temporary yet trendy tattoo option.
11. Bracelet Mehndi Design
This design looks like a beautifully intricate bracelet wrapped around the wrist, with a trail of design leading to one or two fingers, giving a chic and fashionable appearance.
12. Bangle Style Mehndi Design
This design imitates the look of wearing bangles. The 'bangles' are drawn thick on the wrists while the fingers are often adorned with symmetric patterns, providing an illusion of wearing ornate bangles.
13. Peacock Mehndi Design
The peacock, a symbol of beauty in Indian culture, is a popular motif in mehndi designs. The peacock's grace and elegance are portrayed through intricate detailing, creating an impressive and majestic design.
14. Lace Glove Mehndi Design
The lace glove design is a favorite among brides. It features an intricate network of patterns and motifs that look like a delicate lace glove, providing an exquisite bridal look.
15. Henna Flower Mehndi designs ideas
Floral designs are timeless. Large flowers, combined with vines and leaves, are arranged to create a natural, pleasing pattern, perfect for any occasion.
16. Abstract Mehndi Design Ideas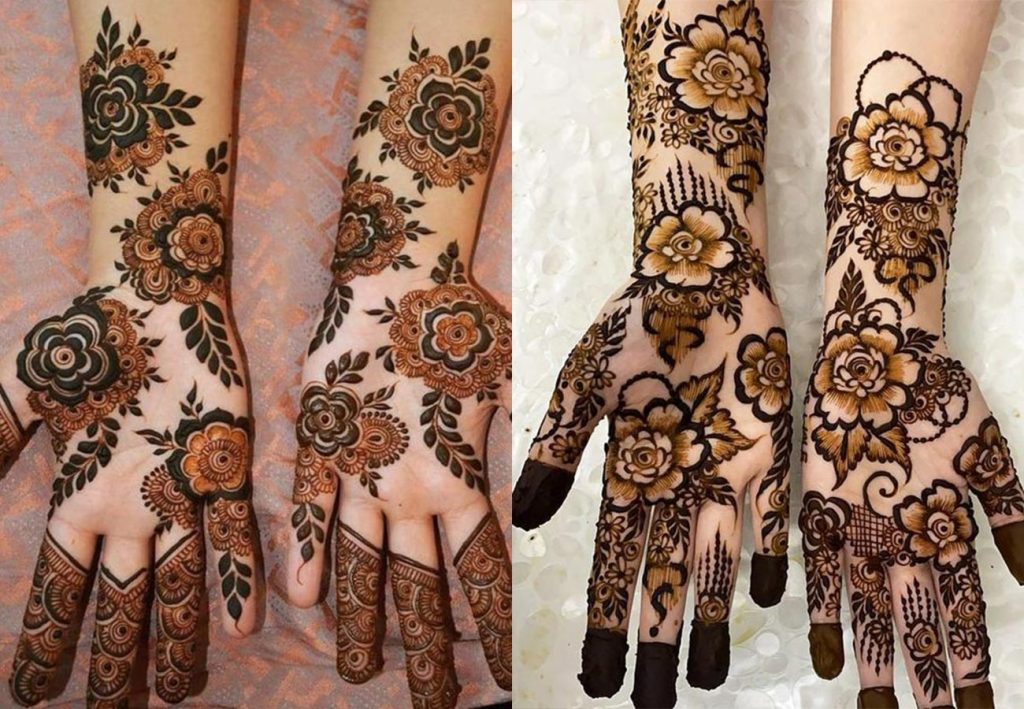 For those who prefer non-traditional patterns, the abstract design offers a variety of artistic styles. It might include any creative art form, including lines, shapes, and figures, that do not conform to the traditional mehndi patterns.
17. Elephant Motif Mehndi Design
Elephants symbolize strength and good luck in Indian culture. These designs feature beautifully detailed elephants often surrounded by traditional Indian patterns.
18. Butterfly Mehndi Design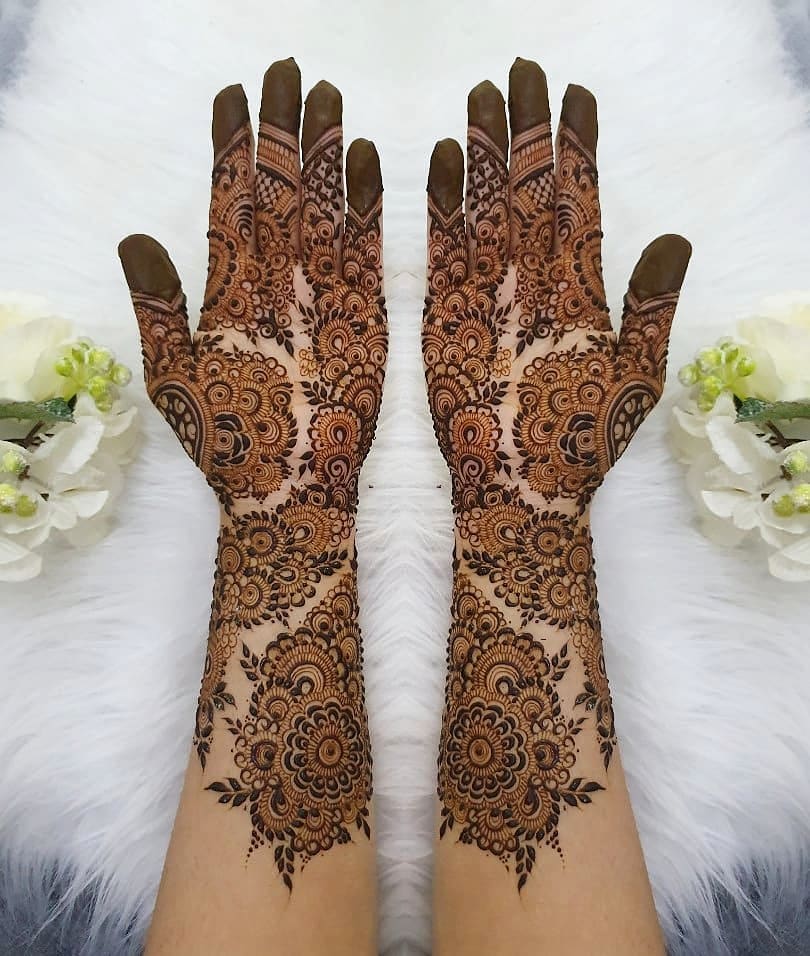 Butterfly designs are charming and whimsical, usually paired with floral motifs. The butterfly, a symbol of change and beauty, is a favorite among young girls.
19. Bird Mehndi Design
Bird designs can range from the traditional peacock to the modern and stylized hummingbird. This design is symbolic and artistic, perfect for those who want a unique mehndi design.
20. Paisley Print Mehndi Design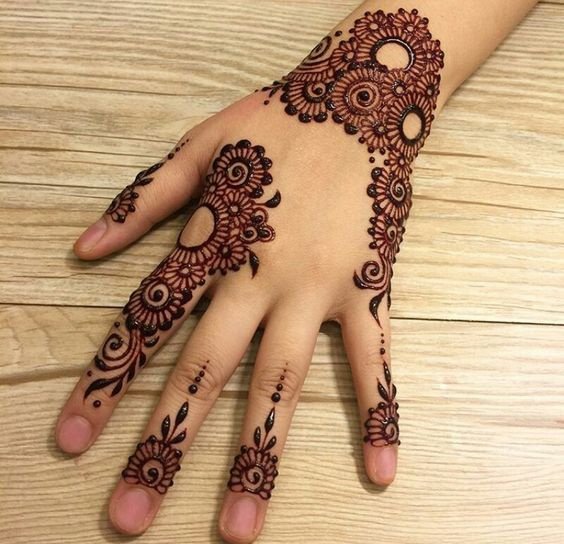 Paisley is a classic motif in mehndi designs. The tear-drop-like shape is filled with intricate details and can be used as the centerpiece of a design or as a filler in more complex designs.
21. Jewellery Mehndi Design
This style replicates the look of actual hand jewelry. Various designs mimic traditional hand jewelry like haath phools, rings, and chains, creating an elegant and regal appearance.
22. Simple Mehndi Design On Front Hand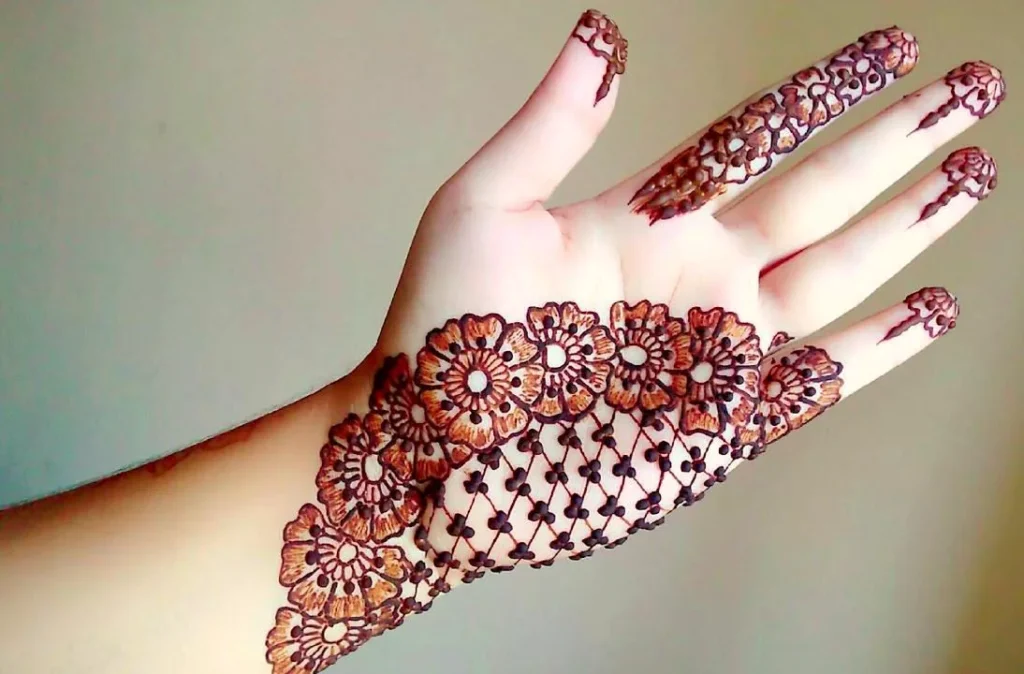 23. Mehndi Design On Left Hand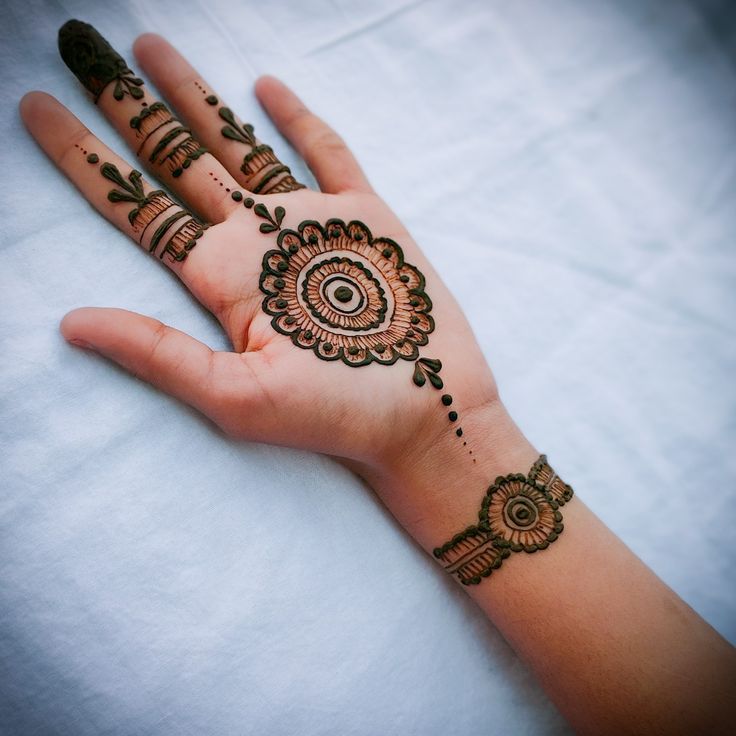 Conclusion
Mehndi or henna art is much more than just a temporary skin decoration. It is a form of self-expression and a tribute to centuries-old traditions. Whether you prefer intricate, full-hand designs, or simple and chic patterns, there's a mehndi style out there that will perfectly match your personality and occasion.
No matter your preference, the art of mehndi design embraces creativity and individuality, making it a beloved tradition in cultures around the world. As you explore these beautiful designs, remember that each stroke of henna tells a story of tradition, culture, and artistic expression.